Getting kids ready to go back to school is expensive! Thankfully, the Arkansas tax free weekend is coming up and that gives parents and students a chance to save some cash!
What is the Sales Tax Holiday?
Act 757 of 2011 provides for a sales tax holiday in Arkansas during the first weekend of August each year. A sales tax holiday is a temporary period when state and local sales taxes are not collected or paid on the purchase of certain products.
What items qualify as exempt from sales tax for the Sales Tax Holiday?
Clothing and footwear if the sales price is less than one hundred dollars ($100) per item; Clothing accessories and equipment if the sales price is less than fifty dollars ($50) per item; School supplies; School art supplies; and School instructional; Electronic devices commonly used by a student in the course of study.
When is the Sales Tax Holiday?
Beginning at 12:01 a.m. on Saturday August 5, 2023, and ending at 11:59 p.m. on Sunday August 6, 2023, the State of Arkansas will hold its sales tax holiday allowing shoppers the opportunity to purchase certain Electronic Devices, School Supplies, School Art Supplies, School Instructional Materials, and Clothing free of state and local sales or use tax. All retailers are required to participate and may not charge tax on items that are legally tax-exempt during the Sales Tax Holiday.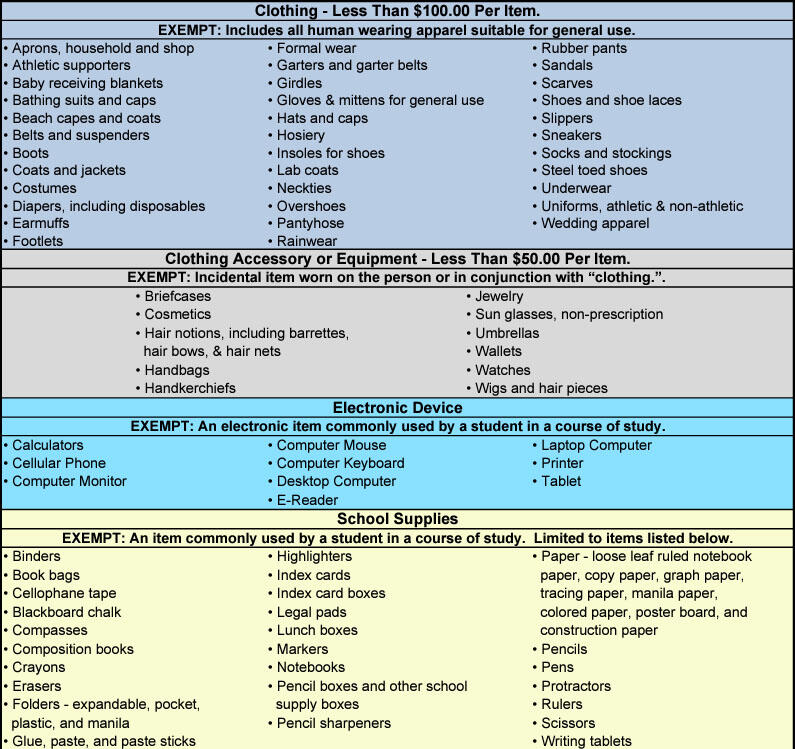 To see the full list of what's covered and what's not, you can visit https://www.dfa.arkansas.gov/images/uploads/exciseTaxOffice/HolidayItemizedList.pdf