Puerto Rico Protesters Flood Streets Demanding Governor's Resignation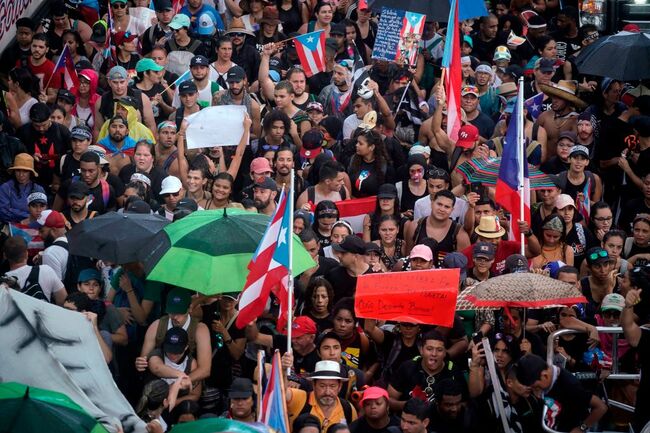 Hundreds of thousands of Puerto Rico residents have flooded the streets of San Juan with protesters bringing island's largest city to a standstill in an effort to demand Governor Ricardo Rosselló resign amid corruption allegations.
Protesters began turning out more than a week ago after almost 900 pages of private messages between Rosselló and several other government officials were published by Puerto Rico's Center for Investigative Journalism earlier this month. The private chats revealed a series of profanity-laced, misogynistic and homophobic comments by Rosselló that included cynical remarks about deaths that followed Hurricane Maria in 2017.
In one message, Rosselló appeared to refer to Melissa Mark-Viverito, a Puerto Rico-born former speaker of the New York City Council, using the Spanish word for "whore" after she criticized the chair of the Democratic National Committee for backing statehood for Puerto Rico.
"Our people should come out and defend Tom and beat up that whore," Rosselló wrote.
Another message showed Puerto Rico's chief fiscal officer at the time, write to Rosselló that he was "salivating to shoot" the mayor of San Juan, Yulín Cruz.
"You'd be doing me a grand favor," the governor replied.
Over the last ten days, hundreds of thousands of protesters have taken to the streets, demanding the governor and other government officials resign. However, in a video posted to his Facebook page on Sunday, Roselló's said that while he would not run for re-election as governor, he would not give in to the protester's demands to step down.
Protesters participating in the national strike, or "Paro Nacional," have been using #RickyRenuncia - which means "Ricky resign" in English.
President Donald Trump weighed in on the scandal on Monday calling Roselló a "terrible governor" calling the island's leadership "corrupt and incompentent." Trump also renewed a false claim that the federal government allocated $92 billion for Puerto Rico's hurricane relief and slammed the mayor of San Juan.
"The governor's done a terrible job and the mayor of San Juan, she's horrible," he added.
The president of Puerto Rico's House of Representatives, Carlos Méndez Núñez, is expected to make a decision in coming days on whether an impeachment process can be initiated.
Photo: Getty Images